Sheriff's Office
Dustin D. Heuerman, County Sheriff
Champaign County Coronavirus Response Webpage
About Us
The Champaign County Sheriff's Office provides primary law enforcement service for approximately 50,000 residents in the unincorporated areas of Champaign County and assists municipalities who have their own law enforcement agencies. Champaign County is the fifth largest county in Illinois by area (approximately 1,050 square miles) and the tenth largest in Illinois by population (approximately 210,000 residents). The Sheriff's office is also responsible for oversight of two correctional facilities, providing court security at the Champaign County Courthouse, and overseeing emergency management within the county.
The Law Enforcement Division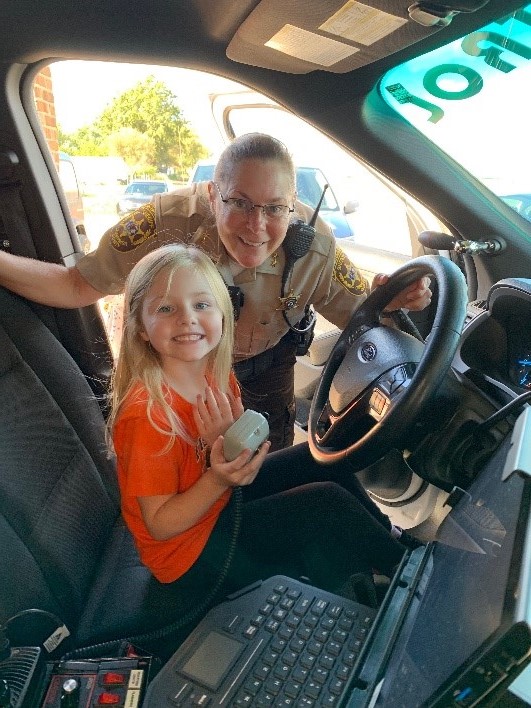 The Law Enforcement Division consists of 54 persons (including the Sheriff and Chief Deputy). The Law Enforcement Captain provides leadership to three Lieutenants, who in turn provide leadership to deputies in the following areas: patrol deputies (29), patrol Sergeants (8), Investigators (5), patrol K-9 handlers (3), civil process service deputies (2) and school resource officers (2). There are also several support-staff positions in the Law Enforcement Division, including records clerks and a crime analyst.
In 2019 there were approximately 24,654 calls for service in the County, deputies made 654 arrests and 207 cases were referred to our Investigations Division.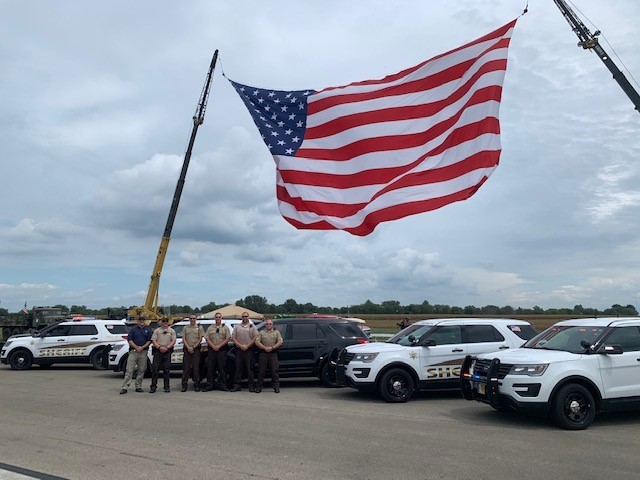 In 2019 the division wrote 1,883 traffic citations, gave 3,511 written warnings, and investigated 543 traffic crashes, including 2 fatalities.
The division is also responsible for service of civil process and in the 2019 calendar year served 7,756 papers of various types (subpoena, summons, court orders, etc.).
The Court Security Division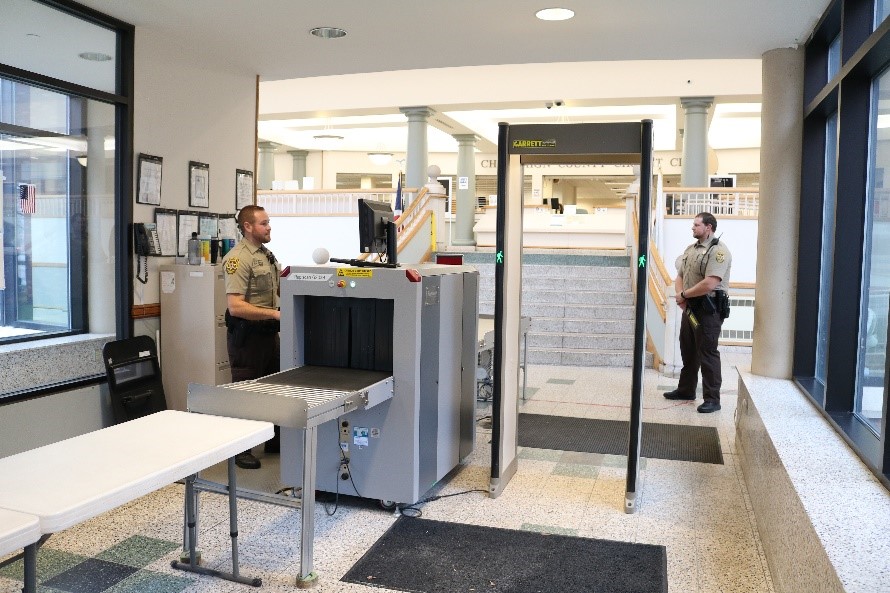 By Illinois law, the Sheriff is required to provide security to the Courthouse and be present in every court proceeding conducted within. This is accomplished through the assistance of the Court Security Division. This division includes 1 court security Sergeant and 12 court security officers, all of whom are sworn officers. Court Security Officers provide security at the front entrance of the Courthouse, as well as the entire building, handle prisoners, tend to juries, and provide individual courtroom security for 11 courtrooms.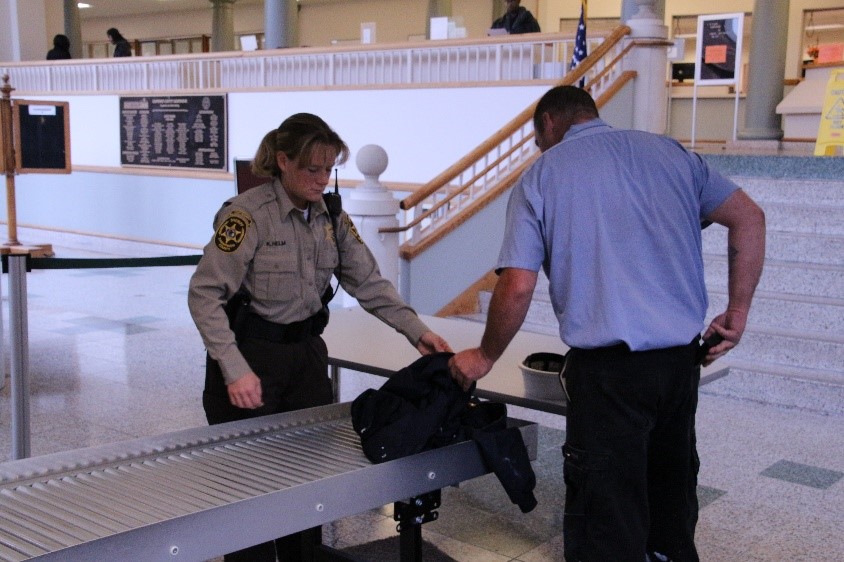 The Court Security Division also uses an explosive detection K-9 (Leo) to help ensure the safety of those working in and visiting the Courthouse. Leo and his handler, Zac, are also utilized at University of Illinois football games and other special events.
The Corrections Division
The Corrections Division consists of 2 facilities - the Satellite Jail on Lierman Ave in Urbana and the Downtown Jail across from the Champaign County Courthouse on Main St. in Urbana. The Corrections Captain/Jail Superintendent provides leadership to three Lieutenants, who in turn provide leadership to 50 corrections officers and 8 corrections Sergeants. There are 6 full-time and 6 part-time Master Controllers who help in maintaining security and communications in the Correctional Centers. There are 3 support staff to assist in clerical duties and coordinating inmate programs. Outside contractors provide meal preparation, medical and mental health services. Meal preparation is supervised by 1 full-time and 2 part-time managers. Medical services consists of 1 part-time doctor, 1 full-time registered nurse, 2 full-time LPN's, 1 part-time LPN and 2 on-call registered nurses. Mental health services are provided by 1 part time psychiatrist, 1 full-time mental health professional, 2 part time mental health professionals and 2 on-call mental health professionals.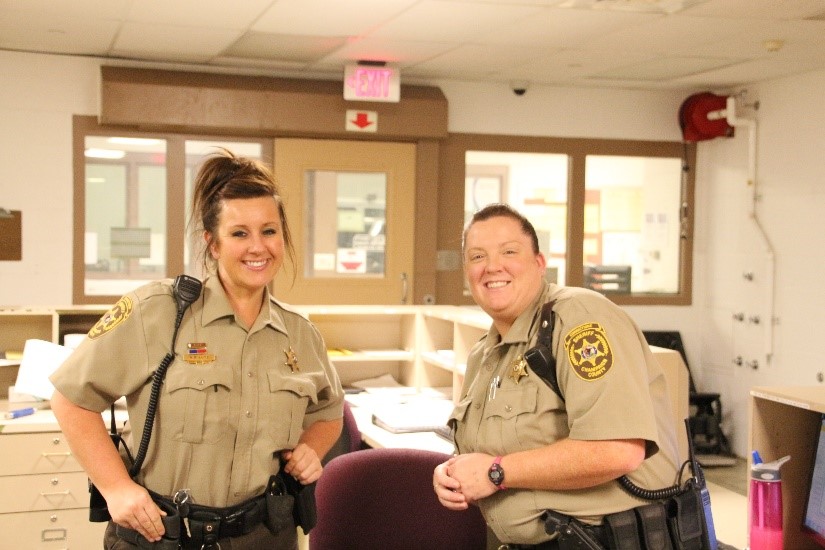 On average, the jail processed 15 intakes per day and 14 releases per day in 2019. There were approximately 7,000 inmate transport to court hearings or other jails/prisons in 2019 and approximately 230 transports for medical appointments. On average in 2019, 20 inmates were transported each day to court hearings that range from the first arraignment appearance to sentencing, staff transported inmates to 4 medical appointments per week and 5-25 inmates are transported to the Illinois Department of Corrections. The division also monitors an average of 300 Electronic Home Detention (EHD) inmates per year. Those on EHD live in the community, but wear an ankle bracelet which utilizes GPS technology and is monitored by correctional staff.
In 2019, the number of inmate programs in the jails were increased from 21 to 28.
Emergency Management Agency
In Champaign County, the Emergency Management Agency (EMA) also falls under the Sheriff's office. EMA consists of a Director and Deputy Director and is charged with emergency management and planning throughout the county. EMA works closely with other municipalities in Champaign County to ensure proper preparedness for any emergencies that might arise.